Building an Exclusive Community of Leaders for Growing their Enterprises in the two Countries and Regions
In corporation with Investment and Consultancy Services Center of Tehran Chamber of Commerce, Industry, Mines and Agriculture (TCCIMA) and The European House – Ambrosetti, on May 16th & 17th, 2016, a summit held in Tehran under the name of "Tehran- IRANITALY Summit" in order to build a community of leaders from Iran and Italy and to re-launch the strategic relationship between the two countries and exploit new opportunities for growing in the Region.


The opening of the summit was held with presence of Governmental officials and private sector from both countries. The key speakers from Iran were Dr. Majid Takhte Ravanchi- Iran's Deputy Foreign Minister for European and American Affairs, Mr. Mehdi Karbasian- Deputy Minister and Chairman of Iranian Mines & Mining Industries Development & Renovation (IMIDRO), Mr. Masoud Khansari- President of Tehran Chamber of Commerce, Industry, Mines and Agriculture, Mr. Mehdi Jahangiri- Vice President of TCCIMA, Chairman of Mr. Mohammadreza Bakhtiari- Deputy of International Affairs of TCCIMA and
Mrs. Ferial Mostofi- Head of Investment and Consultancy Services Center and Mr. Vincenzo Amendola- Deputy Minister, of Ministry of Foreign Affairs, Mr. Mauro Conciatori-Ambassador of Italy to Tehran and Mr. Valerio De Molli- Managing Partner of The European House – Ambrosetti from Italy.
The summit continued with exchanging of ideas and various strategies on the following subjects which were discussed through six different panels managed by the state bodies, business, banking, economy, transportation, industry, tourism and … leaders.
Iran and Italy can make the difference in the current global scenario;
Banking, Insurance and Financial Systems for effectively expanding bilateral relations;
Infrastructures and Mobility are the pillars for the most advanced urban development;
Iran and Italy can cooperate to build up an efficient and competitive energy and power value chain;
Retail, trade, and investment are the platform for an Iran - Italy strategic partnership;
The limitless heritage of tourism and culture are the foundations of the future;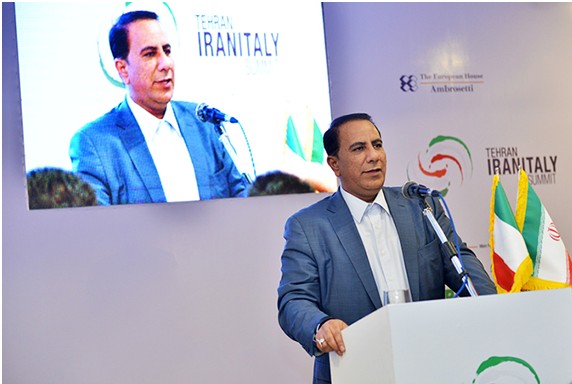 The European House – Ambrosetti is a professional group founded in 1965 which has gradually developed many activities in Italy, in Europe and in the world.
The European House – Ambrosetti is named best Private Think Tank in Italy and
4th in Europe, in the University of Pennsylvania's "2015 Global Go To Think Tanks Report".
It is impossible to remain competitive for over half a century without your day-to-day activity being guided by very precise ethical and moral goals. Independence, integrity, professional dignity … these are the only constraints to the flexibility our work requires.
The Mission is to create sustainable value for our clients and the Group itself, ensuring unique and effective Management Consulting, Permanent Professional Training, Research Services and Workshops and Events, drawing on European culture in this era of acceleration, global competition and discontinuity.
The European House – Ambrosetti operates on the basis of the following values which represent the only constraints on its operational flexibility:
Independence
Continuous striving for excellence
Professionalism/Professional approach
Integrity
Self-respect (serving all, but the servants of none)
Beside the topics exchanged between the participants and the speakers,
a "Memorandum of Understanding" signed between Ambrosetti and TCCIMA for co-operation in various fields.
After two days discussions and exchanging ideas, the summit closed by the speech from
Mr. Jahangiri- Vice President of TCCIMA.
Mr. Jahangiri spoke about collaborations of Italy with Iran in various fields especially during sanctions period. Banking relations, Insurance, tourism, investment were the issues highlighted by Jahangiri.
Following Mr. Jahnagiri's speech, Mr. Andrea Olivero- Italy Deputy Minister, Ministry of Agricultural, Food and Forestry, indicated to the agreement made between Dr. Rohani- President of Iran and Mr. Matteo Renzi- Prime Minster of Italy and other MOUs which will empower the relationship of both countries and creating development of economical and trade cooperation.