TCCIMA Hosts Slovenian Diplomats and Iran's Women Entrepreneurs
Female entrepreneurs and tradeswomen of TCCIMA hosted Slovenia's ambassador Kristina Radej and the director General for Economic and Public Diplomacy at the Slovenian Foreign Ministry Alenka Suhadolnik with an aim to seek ways to develop the economic ties between two countries.


At the beginning Mohamad Reza Bakhtiari the Vice president for international affairs at Tehran's Chamber of Commerce, Industries, Mines and Agriculture welcomed the Slovenian ambassador and delegation and noted that although small in size and with population of 2 million but Slovenia has a dynamic and functioning economy. Bakhtiari further noted that the income per capita in Slovenia is estimated to be 24 thousand dollars and Slovenia enjoys from skilled workers in electronics, car electricity, industrial pumps, ego and water projects. Reflecting on the history of the relation between Iran and Slovenia Bakhtiari illustrated that Iran had good relations with former Yugoslavia and Slovenia after its independence. He hoped that the two countries can have more specialized and technical cooperation's with one another in trades and industry.
Following Mr.Bakhtiari's remarks the president of the Center of Investment and Consultancy Services of TCCIMA Ms. Ferial Mostofi provided a report in which the economic capacities of Iran was introduced. She noted that Iran enjoys good capacities such as its strategic location in the region; access to a market of 600 million; young population; specialized, educated and skilled work force; political stability; adequate infrastructure, abundant natural and mineral resources; low tax rates and so on that are all very attractive for potential investors. Mostofi further explained that Iran seeks to improve the foreign investment in Iran by means of enhancing transparency and security for investors and with that in mind TCCIMA has established a center that seeks to facilitate investment in Iran. Outlining the center's agendas Mostofi noted that implementing investment projects, organizing international seminars, cooperating with credible consultancy firms such as Ernest and Young, Bosch Foundation, Fraser Institute and so on, providing investment regulations in 11 languages are amongst the activities of this center. Mostofi hoped that with seizing upon this opportunities Iran and Slovenia can develop their economic ties with one another.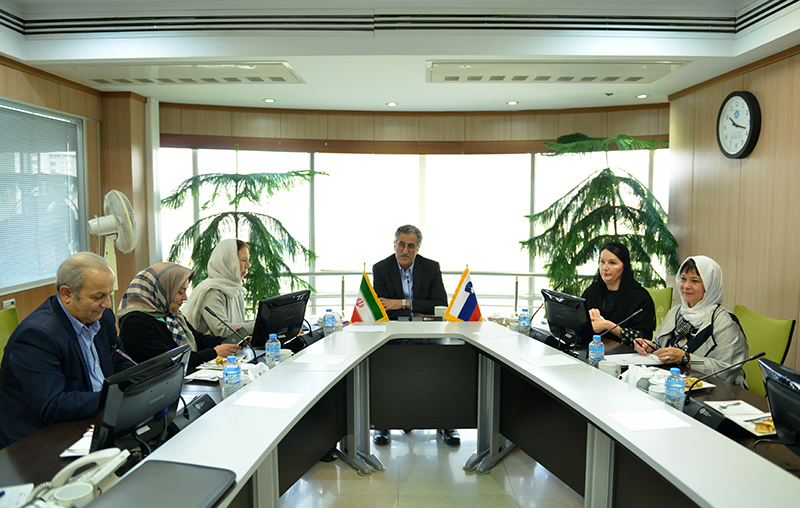 The next speaker in this meeting was Alenka Suhadolnik the director General for Economic and Public Diplomacy at the Slovenian Foreign Ministry who began her speech by expressing her concern over the challenges the world is faced against such as migration and injustice and noted that if countries do not partner with one another the world will become a dangerous place to live in for future generations. Further Suhadolnik explained that Slovenia has a adaptable economy and that the economic complication index of this country shows the diversity of the products that are produced in this country. From that respect she noted, Slovenia is in a good economic position and enjoys from a stability that safeguards it against external shocks. She further noted that Slovenia has a export-oriented economy and an equivalent of 80% of the country's GDP is secured through its export.
Suhadolnik explained that 90% of the firms in Slovenia are small and medium sized enterprises and that the country is ranked 35th amongst 149 countries in the economic competitiveness index. Slovenia is a country which seeks to improve gender equality Suhadolnik added and that according to World Economic Forim Slovenia is ranked 11th among 149 countries in terms of women's status. Suhadolnik further explained that women in Slovenia have been taking more managerial positions and that their participation is expected to rise from 20% in 2014 and 2015 to 40% by 2020. She noted that Slovenia seeks to better the work environment for women and make it more friendly for them and cited a research in which it was concluded that companies which more than 35% of their share are held by women are proven to be more profitable. Finally Suhadolnik hoed that Iran and Slovenia can develop their economic ties and invited women entrepreneurs to come visit Slovenia.
Also in this meeting Fatemeh Moghimi a board member and secretary of TCCIMA and the president of Tehran Business Women Association illustrated the activities of this foundation and explained that with more than 20 branches this association has become a successful and international organization that organizes seminars, workshops and so on across country. Moghimi further noted that today women play an important role in different spheres such as agriculture, transportation, food, fashion industry and so on.
Soheila Jolodarzade an Iranian MP and a board member of TCCIMA also addressed the attendees and expressed that with a 10 to 15 year planning the share of women in higher education which was in minority reached a record high of 64%. She further noted that Iran plans to increase women's participation in the economic sphere to 30% and hoped that Iranian and Slovenian women can correspond with one another in different fields such as trades, production, tourism and so on.
Fereshteh Dastpak the head of Iran National Carpet Center (INCC) also presented a video clip in which the history of the art of Iranian carpet crafting was demonstrated which was widely received by the audience. Dastpak noted that carpet is amongst the top three export goods of Iran that symbolizes the country's great culture and civilization further adding that there are more than 2 million people are occupied in this industry majority of which are women. Inviting the Slovenian ambassador to visit Iranian carpet workshops Dastpak explained that close to 80% of Iranian carpets are exported and India, which mostly copies Iranian carpets, follows Iran in its carpet export. Dastpak expressed her disappointment that despite the artistic nature of carpet the US has sanctioned Iran's carpets and asked Slovenian ambassador to help lift the sanction on the Iranian carpet.
At the end of this meeting emphasizing on the importance of expanding the economic ties between two countries Kristina Radej the Slovenian ambassador to Iran noted that the presence of the Slovenian delegation demonstrates the country's will to develop its relation with Iran. Noting the numerous cooperation potentials Radej added that the Iranian's government's commitment to increase women's role in politics and economy is of value to Slovenia and noted that she will also help develop the relation between Iranian and Slovenian women. At the end of her speech Radej invited Iranian businesswomen and entrepreneurs to come to Slovenia to visit their Slovenian counterparts.